2018 Summer Camp - North Van - Senior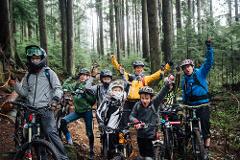 Duration: 5 Days
Product code: 2018_YSC_NV_Senior
Thanks for your interest in Endless Biking's Summer Camp!
Upon booking you'll receive a confirmation email and attached itinerary. Included in the Itinerary are specifics about the programs, meeting locations, what to bring and expect.
Senior Level: Requirements
Age: 12-14 years old
Experience on North Shore trails
26' inch wheels or larger
Disc brakes
Range of gears
Please contact us at 604 985 2519 or info@endlessbiking.com with any questions/unique circumstances.
Typical Day
Drop off and meet your ride crew
Morning ride to get warmed up for the day
Skills Session
Lunch
Shuttle to ride location
Afternoon ride - apply your new skills on the trails
Pick up and get ready to do it again!